(Last Updated On: September 8, 2023)
Looking for a quick sushi fix? Try this easy sushi bake recipe with creamy crab, scallops, and seasoned sushi rice.
To make this sushi bake recipe you will also need to make sushi rice and spicy sushi mayo. Feel free to make it ahead of time if time permits or you do meal prep for the week.
Sushi Bake Ingredients: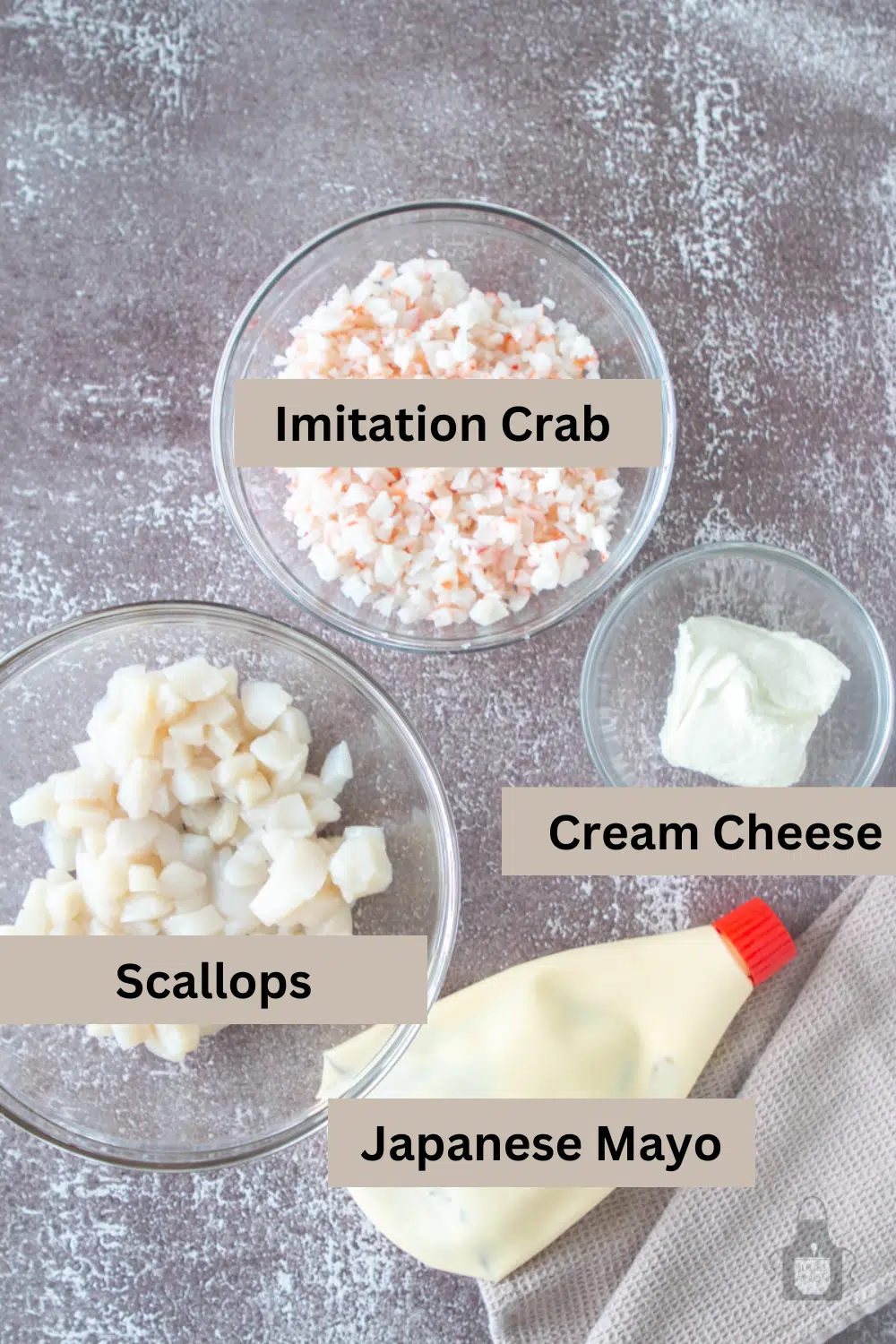 Sushi Rice this is a quick recipe that can be made in the instant pot while you prep the other ingredients.
imitation crab
scallops
cream cheese
japanese mayonaise
eel sauce, opt.
Seaweed
See recipe card for quantities.
Instructions
Step 3: Let the Dough Rise
Cover the dough with plastic wrap and let the dough rise until it doubles in size, which usually takes about 2 hours, depending on room temperature.
Step 4: Roll and Assemble
Once the dough has risen, invert it on a floured surface and with a rolling pin roll out into a rectangle about ¾ inch thickness.
Spread the remaining pumpkin puree and ½ cup softened butter evenly over the dough, then sprinkle a mixture of cinnamon and sugar on top.
Once the sushi bake is golden and done baking. Remove from the oven let slightly cool for about 5 minutes, top with green onions, and serve alongside seaweed sheets.
Substitutions
This easy sushi bake recipe is easily customizable to your taste preference:
Scallops - Feel free to substitute with shrimp. Cut the shrimp into about 3 smaller pieces for each shrimp.
Spicy Mayo - You can use a store-bought spicy mayo but making it from scratch is so simple and you probably already have the other sauces in your fridge.
Imitation crab- You can easily substitute it with real crab meat.
Feel free to top the sushi bake with avocado and cucumber slices.
Equipment
It's great to have a beautiful oven-safe baking dish that can go from oven to table.
Seaweed sheets if it is difficult for you find at your local store they sell these on amazon.
Storage
Store leftovers in an airtight container in the fridge for up to 3 days. Reheat the stovetop in a skillet on medium heat and add more toppings or sauce as desired. This recipe reheats well.
Related
Looking for other recipes like this? Try these:
EASY SUSHI BAKE RECIPE
Looking for a quick sushi fix? Try this easy sushi bake recipe with creamy crab, scallops, and seasoned sushi rice.
Ingredients
2

cups

imitation crab

1

cup

scallops

4

oz

cream cheese

softened

½

cup

Japanese mayonnaise

4

cups

sushi rice

spicy mayo

eel sauce

seaweed sheets
Instructions
Prepare sushi rice in the instant pot following the simple recipe. Make sure to allow time to cool slightly. Then spread it on the bottom of your oven-safe baking dish.

Next, mix your seafood topping. Shred the 2 cups of imitation crab or chop it into thin and smaller pieces. Cube 1 cup of scallops into ¼ inch pieces If you have small bay scallops no need to cube them. Then add 4 oz of softened cream cheese and ½ cup of Japanese mayonnaise. 

After you mix the seafood ingredients with the cream cheese and mayonnaise spread it evenly over the sushi rice in the baking dish. 

Preheat oven to 350F. Drizzle on spicy mayo and eel sauce. Drizzle liberally as much as you desire. Bake for 20-25 minutes.