(Last Updated On: April 19, 2022)
This is the perfect recipe to help use up your over-ripened or cracked tomatoes from your garden at the end of the season. Most grocery stores also have sales on their over-ripened and soft tomatoes. Adjika is an eastern European type of salsa. One of the best things about making your own is you control how spicy you like it, not to mention how much more flavor it has with homegrown tomatoes. Traditionally our ancestors used a meat grinder to process all the produce, nowadays you can use a blender or food processor. With this recipe you don't even have to can it you can freeze it up to 5 months and refrigerate for 1 month. So let's get to it!
What You Need
Tomatoes
Carrots
Bell Peppers
Granny Smith Apples
Jalapenos
Peppercorns
Bay Leaves
Sugar
Salt
Vinegar
Garlic
Clean, core, and cut all your fruits and veggies into manageable pieces.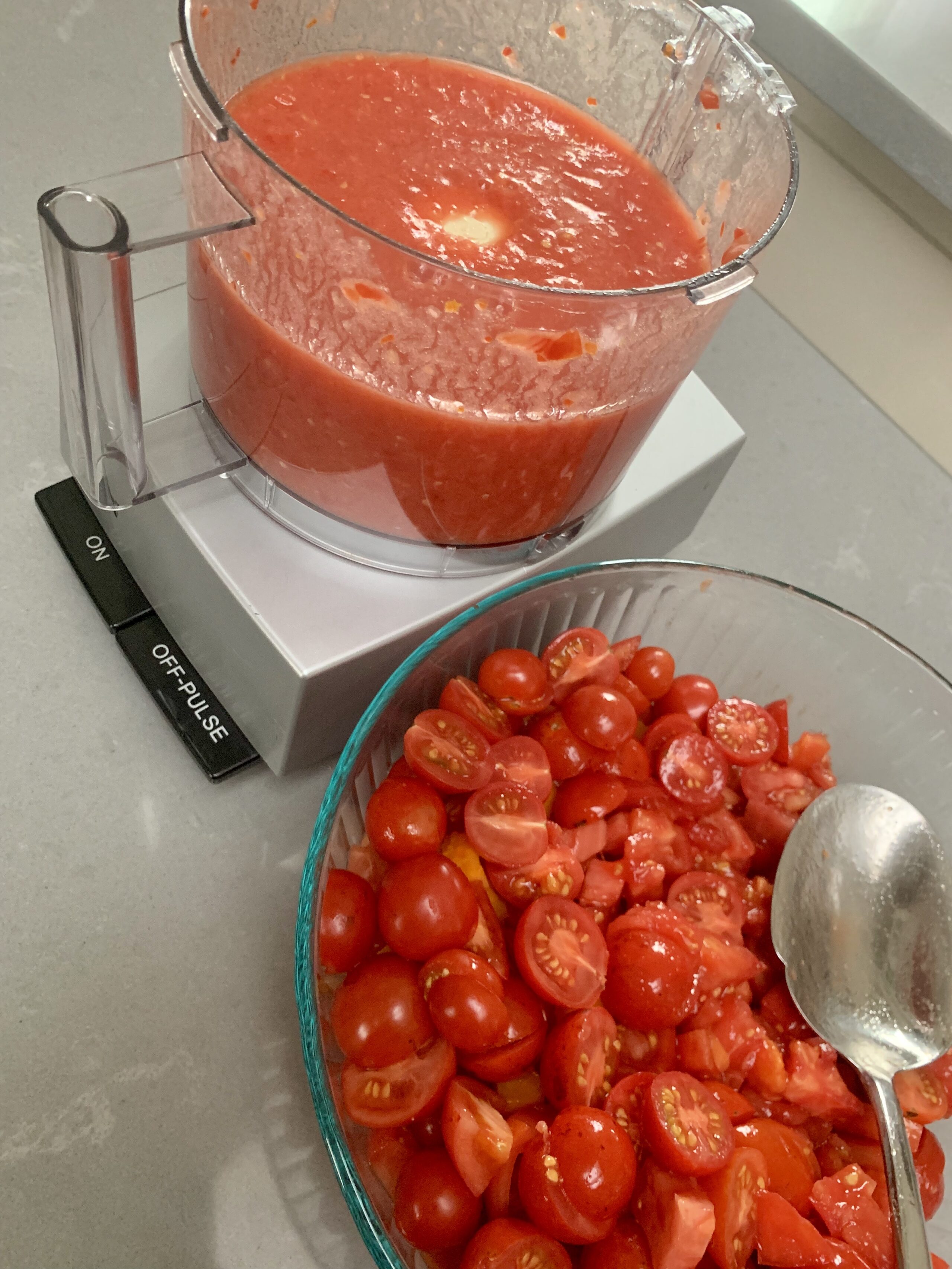 Pulse in food processor or blender. Don't puree just pulse to a coarse texture. Work in easily manageable batches and as its pulsed add to a large pot until all food is processed


Add peppercorns and bay leaves stir well. Bring to boil, skim off foam. Reduce heat to medium low and simmer for 1 hour


Add minced garlic, sugar, salt, vinegar. Mix well and simmer for another 20-30 minutes.
Your adjika is now ready and you need to decide how to store it and fill containers accordingly. Glass= fridge or canning Plastic= freezing
For current canning guidelines visit: https://nchfp.uga.edu/questions/faq_canning.html
If you are planning to store in the refrigerator I would still recommend sterilizing your jars by either running it through a dish wash cycle or in a pot of boiling water.
And the easiest way is to place in a freezer-safe plastic container and freeze for up to 5 months
ADJIKA
Ingredients
10

cups

tomatoes

pulsed, blended

1

lb

carrots

4

bell peppers

3

granny smith apples

6-8

jalapenos

3

tablespoon

sugar

3

tablespoon

salt

3

tbsp

white vinegar

2

garlic heads

8

peppercorns

4-5

bay leaves
Instructions
Clean, core, and cut all your fruits and veggies into manageable pieces.

Pulse in food processor or blender. Don't puree just pulse to a coarse texture. Work in easily manageable batches and as its pulsed add to a large pot until all food is processed

Add peppercorns and bay leaves stir well. Bring to boil, skim off foam. Reduce heat to medium low and simmer for 1 hour

Add minced garlic, sugar, salt, vinegar. Mix well and simmer for another 20-30 minutes.

Your adjika is now ready and you need to decide how to store it and fill containers accordingly. Glass= fridge or canning Plastic= freezing