(Last Updated On: April 1, 2022)
Say hello to this sugar snap pea recipe with lemon zest charred with butter to perfection. Serve alongside your dinner entree. It comes together so quickly and pairs very well with BBQ chicken and cooked corn. In the summer when there is an abundance of sugar snap peas in the garden you have to try this recipe. I was looking for ways to use up the snap peas in different recipes and decided to make it similar to green beans and that's how this recipe was created.
Ingredients:
-sugar snap peas
-lemon zest
-butter
-s&p
Sugar snap peas recipe instructions:
1. Rinse snap peas in a strainer.
2. Trim the end of the snap peas and remove the string that goes down the middle of the pod.
3. Zest a lemon carefully to only remove the skin the white flesh of the lemon can cause a bitter taste. Add the lemon zest to snap peas.
4. Heat a large skillet preferably cast iron on medium-high heat and add butter and snap peas with lemon zest. Then add salt and pepper and lightly toss together to evenly coat peas. Saute until snap peas start to blister about 5 to 7 minutes.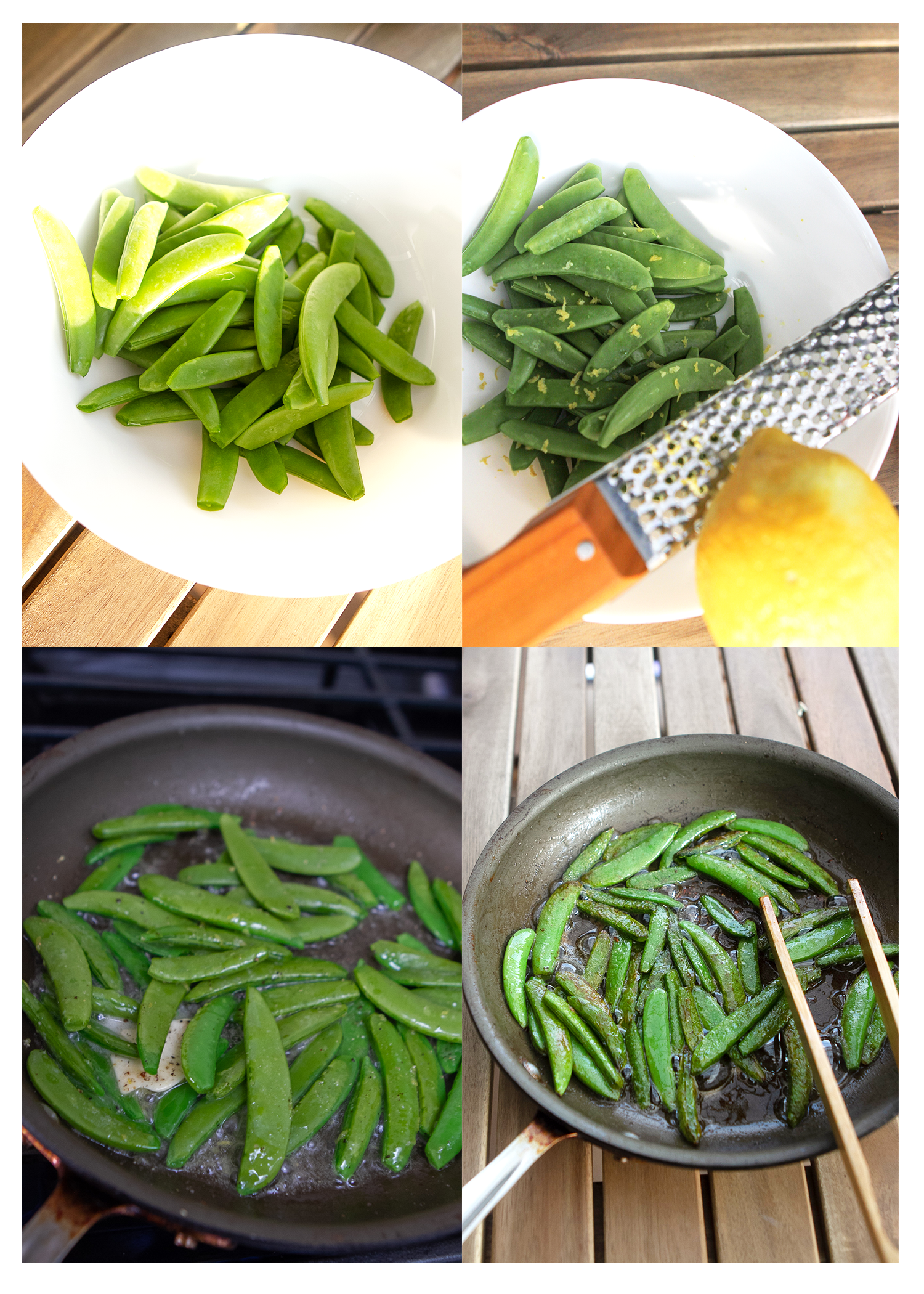 Serve as a side dish best enjoyed fresh.
If you enjoyed this recipe you might also like:
GARLIC GREEN BEANS
SKILLET SUGAR SNAP PEAS
Ingredients
50

snap peas

1

tablespoon

lemon zest

1

tbsp

unsalted butter

½

teaspoon

sea salt

¼

teaspoon

ground black pepper

1

tsp

olive oil
Instructions
Rinse snap peas in a strainer

Trim the end of snap peas and remove the string that goes down the middle of the pod

Zest a lemon careful to only remove the skin the white flesh of the lemon can cause a bitter taste. Add lemon zest to snap peas

Heat a large skillet preferably cast iron on medium-high heat and add butter and snap peas with lemon zest. Then add salt and pepper and lightly toss together to evenly coat peas. Saute until snap peas start to blister about 5 to 7 minutes.

Serve as a side dish best enjoyed fresh