(Last Updated On: June 15, 2022)
This simple yet flavorful casserole is sure to become a favorite. Chicken marinated with ranch and wrapped in bacon cooked alongside potatoes with ranch. Chicken bacon ranch potato casserole has that classic flavor that everyone enjoys.
Ingredients:
chicken breast
bacon
carrots
onions
potatoes
ranch
salt & pepper
Instructions for Chicken bacon ranch potato casserole:
Wash chicken and pat dry. Cut into vertical strips season with ranch and let marinate while chopping and cleaning vegetables.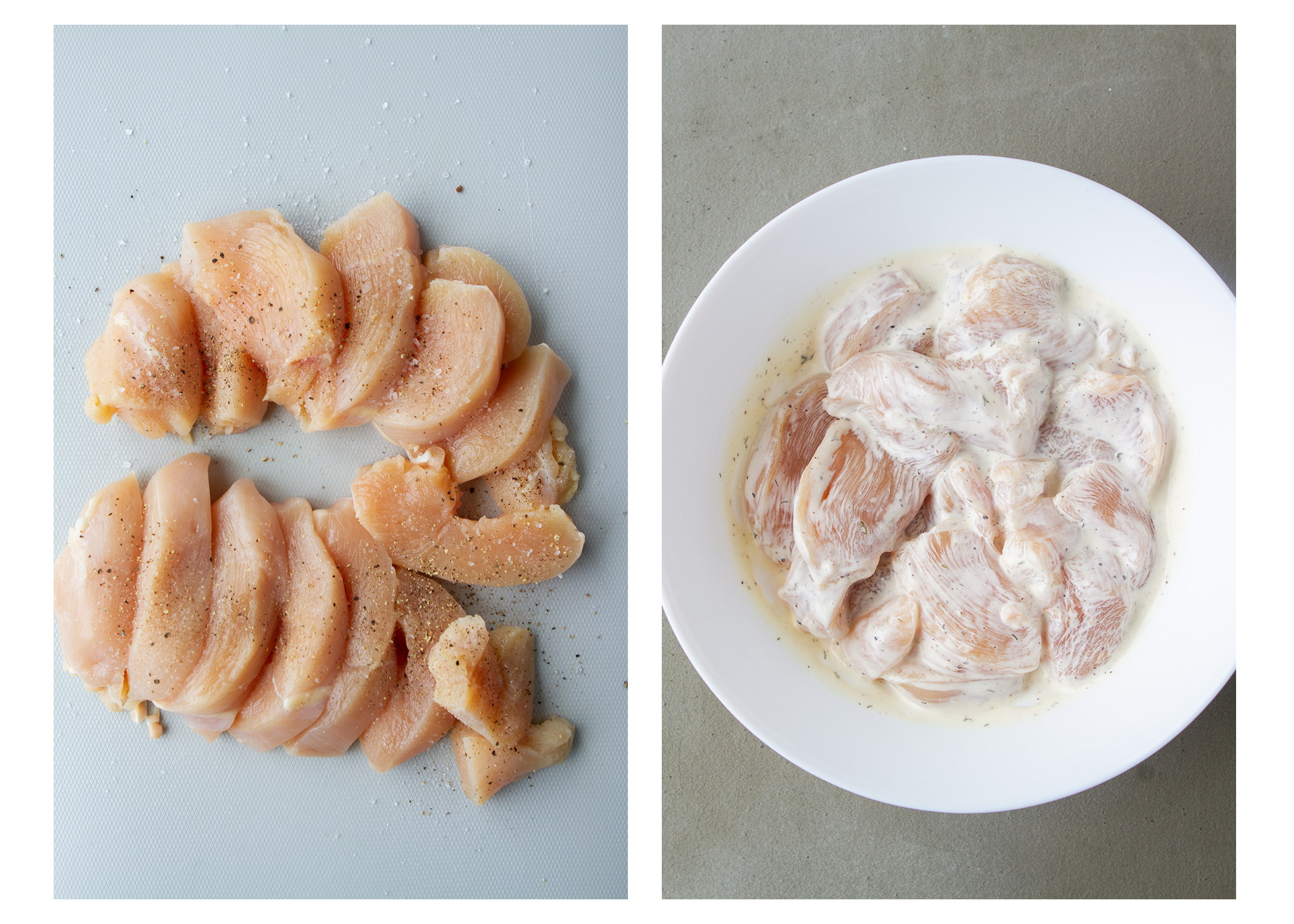 Clean carrots and peel onions and potatoes. Chop onions into slices and chopped carrots thinly.
In a casserole dish on the bottom spread sliced onions and chopped carrots.


Cut potatoes into cubes parboil potatoes for 10 minutes then drain and smoother ranch.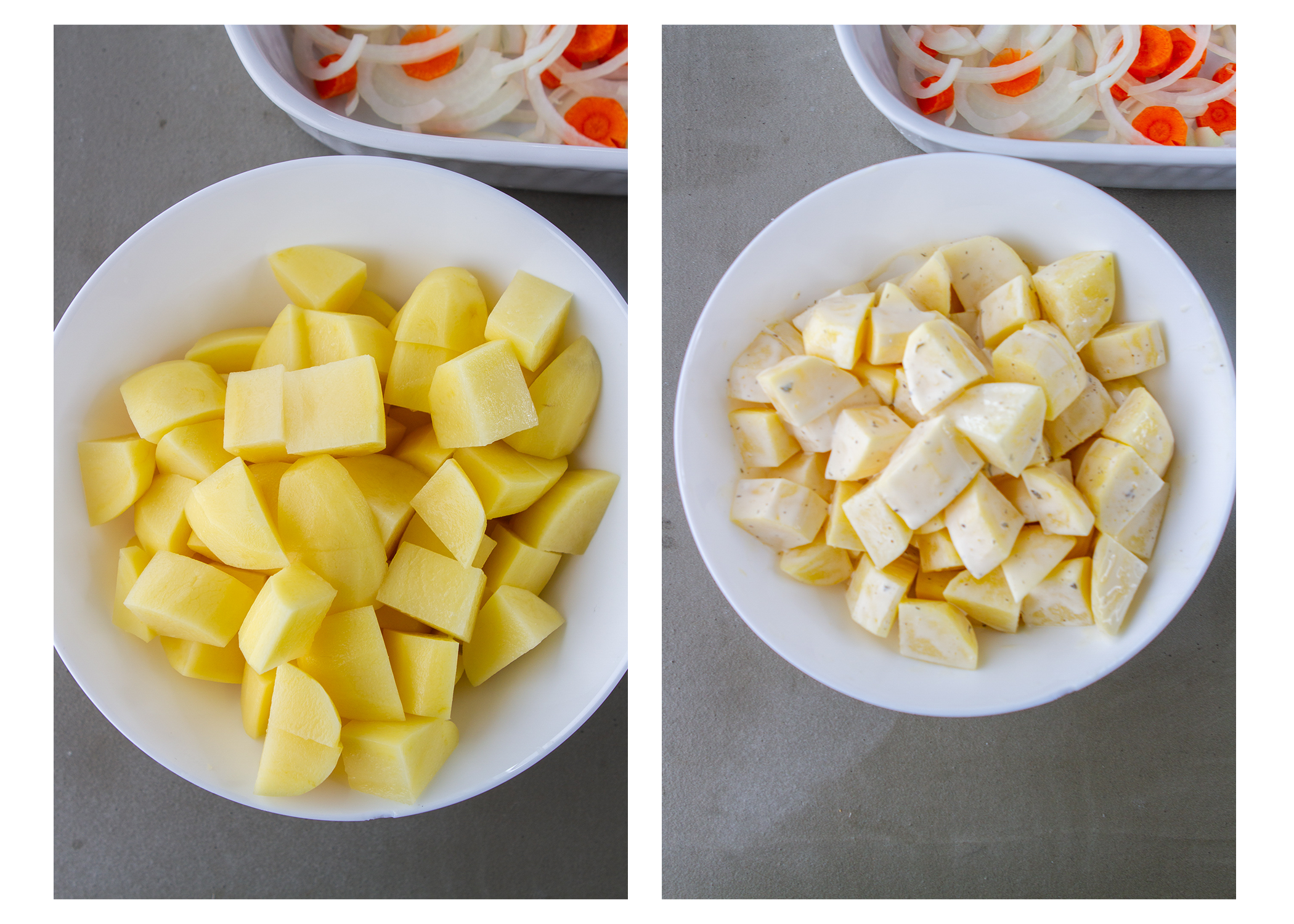 Wrap bacon onto chicken strips and lay on top of carrots and onions in 2 rows in between chicken place ranch potatoes. Cover with foil and bake in preheated oven at 375F for 30 min or until potatoes are cooked through. Remove foil and broil for another 10 minutes until bacon is nice and crisp and potatoes are golden.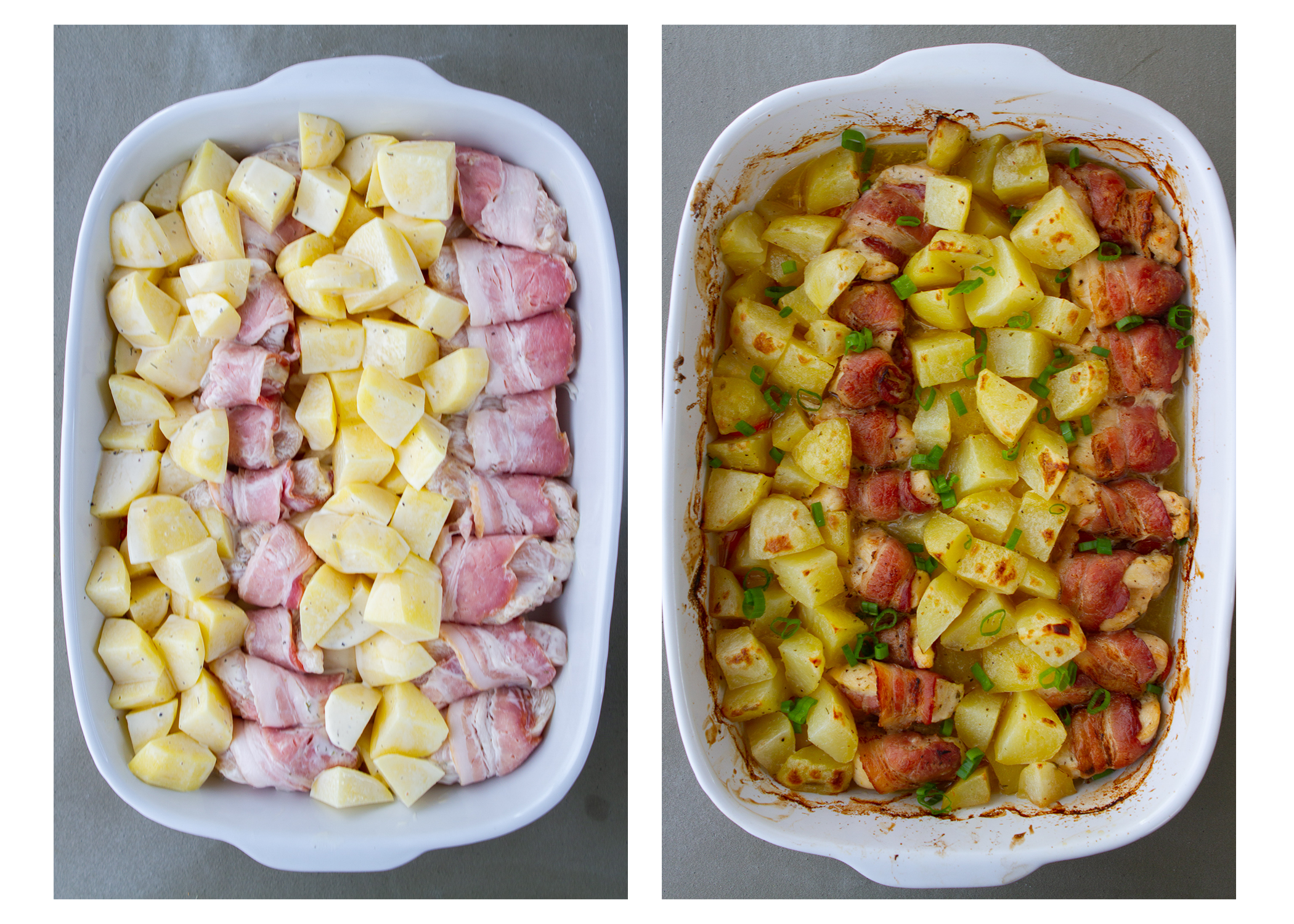 Other recipes you might enjoy:

THE JUICIEST ROASTED PORK TENDERLOIN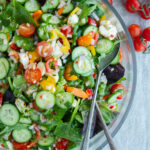 CRUNCHY GARDEN MOZZARELLA SALAD
If you enjoyed this recipe make sure to leave a 5-star rating. As well as leave a comment if you have any questions or what you enjoyed most. Be sure to tag us on social media #juliesapron or @juliesapron for a chance to be featured on our page. These small gestures mean so much for the success of my blog! Thank you for following along and if you are new here welcome and I hope you stick around and enjoy all the recipes!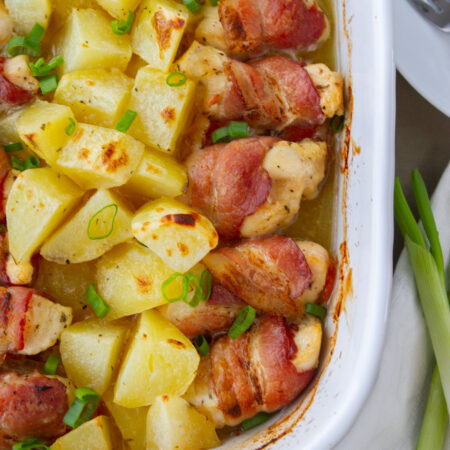 CHICKEN BACON RANCH POTATOE CASSEROLE
Chicken marinated with ranch and wrapped in bacon cooked along side potatoes with ranch.
Ingredients
2

chicken breasts

12

oz

bacon

2-3

large carrots

1

onion

6

gold potatoes

¾

cup

ranch

½ on chicken & ½ on potatoes

salt and pepper

to taste
Instructions
Cut chicken breast into short strips and season with salt and pepper on both sides. Then pour out ½ of the ranch onto the chicken mix and let marinate while prepping the rest of the ingredients.

Clean and Slice carrots and onion. Place on bottom of prepared casserole dish.

Bring water to a boil in a pot.

Peal the potatoes and cut into cubes. The place into boiling water and boil for 10 minutes. Do not cook all the way through.

When potatoes are done drain and season with salt and pepper then mix in the rest of the ranch.

Wrap chicken slices with bacon strips tucking the end on the bottom. Make 2 rows leaving room for the potatoes.

Pour ranch potatoes into the empty rows. Cover with foil and bake in a preheated oven 375°F for about 30 minutes. When potatoes are fork tender and middle of chicken pieces reach 165°F remove foil and broil for 5-10 minutes until bacon is crisp.
[easy-tiktok-feed username="juliesapron.com" layout="grid" videos_per_page="9" ]