(Last Updated On: October 15, 2020)
I have tried and tested so many sirniki recipes over the last few years they would always either burn on the outside and be raw on the inside or absorb too much oil or fall apart. I finally have a recipe that is a success every time. They even taste good cold if your lucky to have a few leftovers. The secret to making successful pancakes is using coconut oil to fry and farmer cheese over cottage cheese. If you don't like the taste of coconut oil, even though it is very mild and I barely taste the coconut, but if you absolutely don't like it you can cook these with a half butter half oil mixture (the oil helps the butter not burn as fast). You can substitute the farmer cheese with either cottage cheese or ricotta, but you would have to place the cheese in a strainer overnight to drain all the liquid from the cheese so you will be left with dry cheese curds, otherwise the pancakes with fall apart. For best results use farmer cheese some grocery stores carry it if you can't find it, a European grocery store will have it.


Ingredients:
-Farmers Cheese
-Eggs
-Flour
-Sugar
-Salt
-Coconut Oil, for frying

Recipe tips and substitutions:
-Farmer cheese can be substituted with cottage cheese just make sure to drain out all the liquid (best done overnight place cheese into a strainer and into the fridge).
-If you don't like coconut oil for frying it may be substituted with ½ tablespoon butter and ½ tablespoon oil.
In a mixing bowl mix farmer cheese and eggs
Add flour, sugar, salt. Mix well your batter should be thick


Place a spoonful of batter into the bowl with flour and coat with flour, form and flatten.


Heat your pan on medium-low and add coconut oil. You can form all the pancakes and place them onto a floured surface or form and add straight into the heated pan.
Don't overcrowd the pan otherwise they won't cook evenly.
You will have to cook them in 2 to 3 batches depending on how big your skillet is and how big you make the pancakes.
Cook for about 4 minutes per side and place your sirniki on a paper towel to absorb any access oil.


Serve with sour cream, syrup, or preserves.
Enjoy!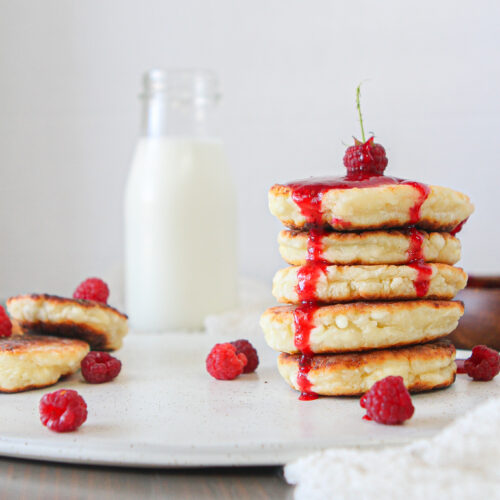 FARMER CHEESE PANCAKES (SIRNIKI)
Ingredients
2

cups

Farmer Cheese

2

Eggs

1

cup

Flour

divided

¼

cups

Sugar

½

tsp

Salt

Coconut oil

for frying
Instructions
In a medium bowl mix cheese, eggs until well combined

Add dry ingredients ½cup flour , sugar, salt. Mix well batter should be thick

Prepare ⅓ cup flour in a bowl to coat each pancake

Place scoop of batter into flour and shape and flatten into a patty

Cook in large skillet with out over crowding on coconut oil on medium/low heat for about 4 minutes per side

Place onto paper towel to cool and soak off any excess oil

Serve with sour cream, syrup or preserves