(Last Updated On: June 22, 2022)
For my first recipe, I wanted to go back to the basics and show you how to make bone broth in an instant pot. It took me many tries to find the easiest way to cook broth that you don't have to cook all day. This Instant pot chicken bone broth can't compare to the boxed broth you get at the grocery store it only requires 10 minutes of hands-on time and you will be rewarded with an incredibly flavorful broth. Chicken bone Broth is such a versatile ingredient that it can be a dish on its own or enhance almost any recipe with flavor.
Jump to Recipe
Ingredients:
-chicken party wings/chicken thighs bone-in/drumsticks
-onion
-celery
-carrots
-peppercorns
-Vegeta/ Mrs. dashes/any all-purpose seasoning
Instructions for making flavorful Chicken bone broth in the instant pot
To start prep and clean all your ingredients. Clean chicken with a paper towel to absorb any excess liquid. Cut the onion in half leaving yellow peal on it making your broth a beautiful golden color. Wash carrots but you don't have to peel them.
Fill your instant pot with 14 cups of water and add chicken, onion, celery, carrots, peppercorns, and seasoning.
Turn your instant pot setting to the soup option and adjust the time to 1 hour and 30 minutes. Leave uncovered until it starts foaming, then skim the foam off the top. This will help you get a clean golden-colored broth. Cover and seal your pressure cooker, and let it cook for the remaining time.

When the time is up and your pot depressurizes strain the broth through a strainer. At this point, you can and use the broth in soup right away or store it in the freezer for up to 9 months.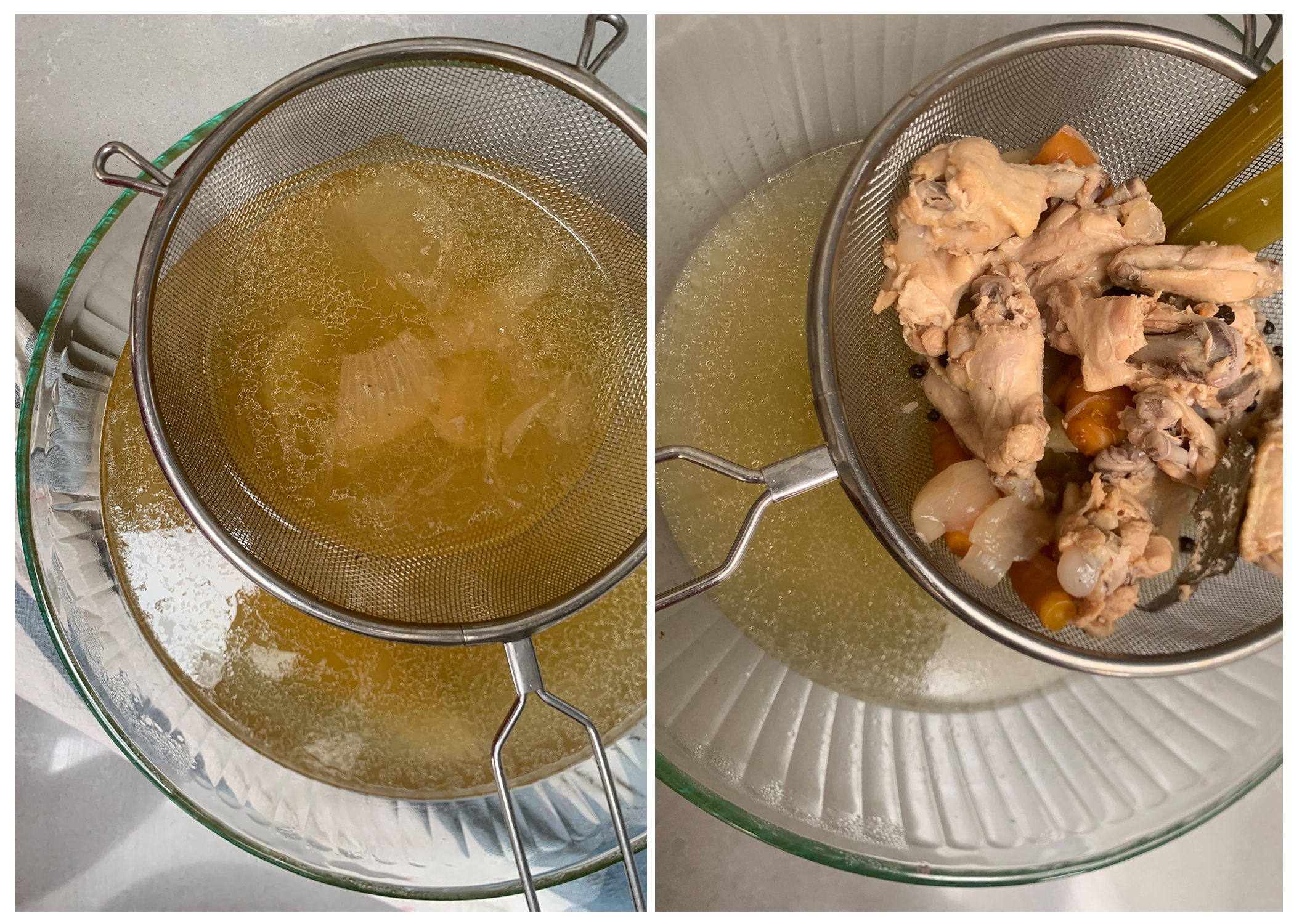 How to store Bone Broth:
*refrigerate- for 4 to 5 days
*freeze- up to 6-9 months.
Recipe tips:
My favorite way to freeze it is in an ice tray so you can pop it out and add it to any dish that needs that extra flavor.
You can use any chicken with bones, thighs bone-in, or drumsticks.
After the broth is done cooking clean chicken off the bones and use it in your soup.
If you enjoyed this recipe make sure to leave a 5-star rating. As well as leave a comment if you have any questions or what you enjoyed most. Be sure to tag us on social media #juliesapron or @juliesapron for a chance to be featured on our page. These small gestures mean so much for the success of my blog! Thank you for following along and if you are new here, welcome; I hope you stick around and enjoy all the recipes!
INSTANT POT BROTH
Homemade Chicken Broth that is packed with flavor perfect for a pot of soup or to freeze and add to other recipes
Equipment
Pressure cooker/ Instant pot
Ingredients
1.5-2

lbs

chicken wings

1

onion

2

carrots

2-3

celery stalks

1

teaspoon

peppercorns

2

tablespoon

Vegeta/ Mrs. Dashes all purpose seasoning

14

cups

water
Instructions
To start prep and clean all your ingredients. Clean chicken with a paper towel to absorb any excess liquid. Cut the onion in half leaving yellow peal on it makes your broth a beautiful golden color. Wash carrots but you don't have to peel them.

Fill your instant pot with 14 cups of water and add chicken, onion, celery, carrots, peppercorns, and seasoning.

Turn your instant pot setting to the soup option and adjust the time to 1 hour and 30 minutes. Leave uncovered until it starts foaming, then skim the foam off the top. This will help you get a clean golden-colored broth. Cover and seal your pressure cooker, and let it cook the remaining time.

When the time is up and your pot depressurizes strain the broth through a strainer. At this point, you can and use the broth in the soup right away or store it in the freezer for up to 9 months.

Set aside the chicken (it can be cleaned from the bones and skin and reused in your soup)

Your broth is now ready to make soup or store for other recipes